Airbnb has rapidly become one of the most popular hotel alternatives in the world. People from around the globe can travel relatively cheaply by renting an Airbnb, and Airbnb hosts can make some side income by renting out their homes, rooms, guesthouses, etc.
As with staying at any sort of hotel, motel, or hostel, renting an Airbnb does put the renter at risk of injury if there are hazards on the premises. Airbnb accidents can and do happen – a quick Google search will reveal as much. What are you supposed to do if you rent an Airbnb and get hurt as a guest due to a premises liability issue that was no fault of your own?
For Airbnb guests and hosts alike, good news comes in the form of Host Protection Insurance or HPI. Airbnb gives hosts an HPI policy as a financial safety net in case someone renting their property gets hurt and wants to sue for compensation. The standard HPI policy provides primary liability coverage up to $1,000,000 per incident, providing for both bodily injury and property damage claims. Since the policy is "per incident," the $1,000,000 cap applies regardless of how many plaintiffs file a claim for the same incident or accident.
What types of Airbnb accidents might be covered by Host Protection Insurance?
Slip and fall accidents on slippery floors, uplifted carpeting or floor mat, loose steps, poorly lit walkways, etc.
Injuries suffered if a balcony or deck collapses.
Falling in a hole on the property.
Product defect injuries if the product was owned by the host and guests were allowed to use it.
Guests accidentally cause an injury to a visiting third party, like a food courier.
If you were renting an Airbnb and suffered an injury due to any of these issues or something similar, then you should not hesitate to file a claim against the host. Host Protection Insurance should be capable of covering most or all of your damages, depending on the extent of your injuries.
Please keep in mind that intentional acts of negligence or recklessness are not covered by HPI policies and would likely invalidate your chance of filing a personal injury claim against the host. For example, if you host a party at your Airbnb and a drunk guest assaults you, then your claim would target that guest, not the host renting out the property.
Example of a Rental Home Injury:
Our client, a paying guest at a rental home, was unloading his vehicle in the carport in front of the rental property.  Unbeknownst to him, there was a hidden drop off on the edge of the carport, between the carport and the home's deck.  Lighting was poor, thus our client could not see the drop-off.  There was no guardrail to keep people from falling into the gap and no warnings about its existence. The photos below show that the trench is clearly visible in the daylight, but at night, when our client arrived to the rental home, it was not visible. It was a hidden trap.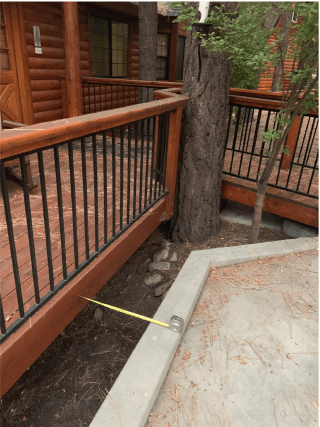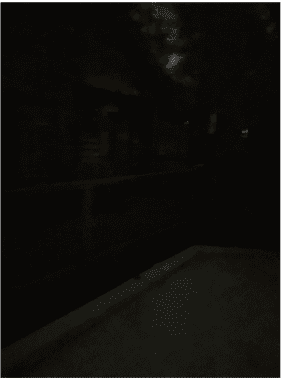 As our client was unloading his vehicle, he stepped back and fell into the trench, suffering a concussion and broken bones.  Despite the defendant's denial of responsibility for the accident, our attorneys were able to obtain a substantial settlement for our client.
What should you do if you're injured at an Airbnb?
Takes photos of the condition which caused your injury, preferably showing the lighting that existed at the time of your accident.
Take measurements, if appropriate.
Canvas the scene for any video cameras that may have captured your accident.
Get the contact information for all witnesses.
Take photos of your visible injuries.
When you're at the hospital or urgent care explaining how you were injured, make sure you clearly describe how the injury happened, so that your medical records accurately reflect the facts.
Seek the advice of a personal injury lawyer who has experience representing Airbnb injury victims.
What If the Host Doesn't Have HPI?
Airbnb automatically provides the standard Host Protection Insurance policy to anyone who is an approved Airbnb host. There should be no legal hoops for a host to jump through to get the policy coverage, either. Once they are approved by Airbnb to host in the company's name, the HPI policy is provided.
With that said, there is a chance that a legal wrinkle could apply that invalidates your Airbnb host's HPI policy. Or you might be hurt in an accident that is not technically covered by HPI. At that point, you would likely still have a viable claim against the host, who would use their homeowner's insurance policy instead, which generally provides coverage for all types of premises liability accidents involving guests, visitors, and even trespassers.
Do you have more questions about or need help filing an injury claim against an Airbnb host? McGee Lerer & Associates and our Airbnb accident attorneys are here to provide legal assistance to Airbnb injury victims throughout California. Our firm has represented many Airbnb accident victims. If your Airbnb vacation turns into a nightmare because you suffered injuries that were the property owner's fault, you are entitled to compensation. If your injuries are serious, you may be looking at a lifetime of pain and disability, and ongoing medical expenses. You need representation from a personal injury law firm that understands the intricacies that can arise in an Airbnb accident claim and how to get maximum compensation from Airbnb.
Call our firm at (310) 231-9717 to get more information.