Request Your Free Consultation
How We're Paid for Our Services
"What do you charge?" is one of the first questions callers ask us. At McGee, Lerer & Associates, it's important to us that you fully understand what we charge. Total transparency is how we operate. From the time you hire us until the time your case is over, we want you to have a complete understanding of the process. There is no hiding the ball.
You Pay Us Nothing Upfront to Hire Us
When you hire McGee, Lerer & Associates, you pay us nothing upfront. We only get paid at the end of the case, after we collect money for you from the insurance company.
This is called a "contingency fee." Our fee is contingent on recovering money for you. If we recover no money, we are paid nothing. That's why we can't take every case. We only take a case if we are confident that we will win. If we can't take your case, we will explain why.
Our Fee comes out of the Money the Insurance Company Pays
You never write us a check. After we settle your personal injury case and collect money from the insurance company, our fee is paid out of that money. Our fee is a percentage of the money we collect from the insurance carrier.
What Percentage Do We Charge?
Almost all personal injury lawyers in California charge the same fee structure. The fee is determined by whether a client is a minor (under age 18), or the stage at which the case settles. The fee will be 25%, 33 1/3%, or 40%.
25% fee: If our client is a minor (under age 18), then the fee is 25%.
33 1/3% fee: If our client is an adult, and the case settles before a lawsuit is filed (or arbitration demanded if it's an uninsured motorist case), then the fee is 33 1/3%.
40% fee: If our client is an adult and the case resolves after a lawsuit (or arbitration demanded if it's an uninsured motorist case), then the fee is 40%.
The majority of the cases that McGee, Lerer & Associates handles settle before a lawsuit is filed. Thus for adults, the fee will usually be 33 1/3%.
Because our fee is a percentage of the money we collect for you, we have built-in incentive to get you the most amount of money possible. The more money we get you, the more money we are paid.
Costs - Explained
Sometimes we have to spend money when working up your case. For example, we may have to pay for the police report, or a medical provider may charge us to send us copies of your medical records, or we may need to pay an investigator to do an asset check on the defendant. If we incur costs on your case, those costs also come out of the settlement. We keep the costs in check. We know that they ultimately come out of the money that will be going to you, and we do everything we can to maximize the amount you will end up with in your pocket.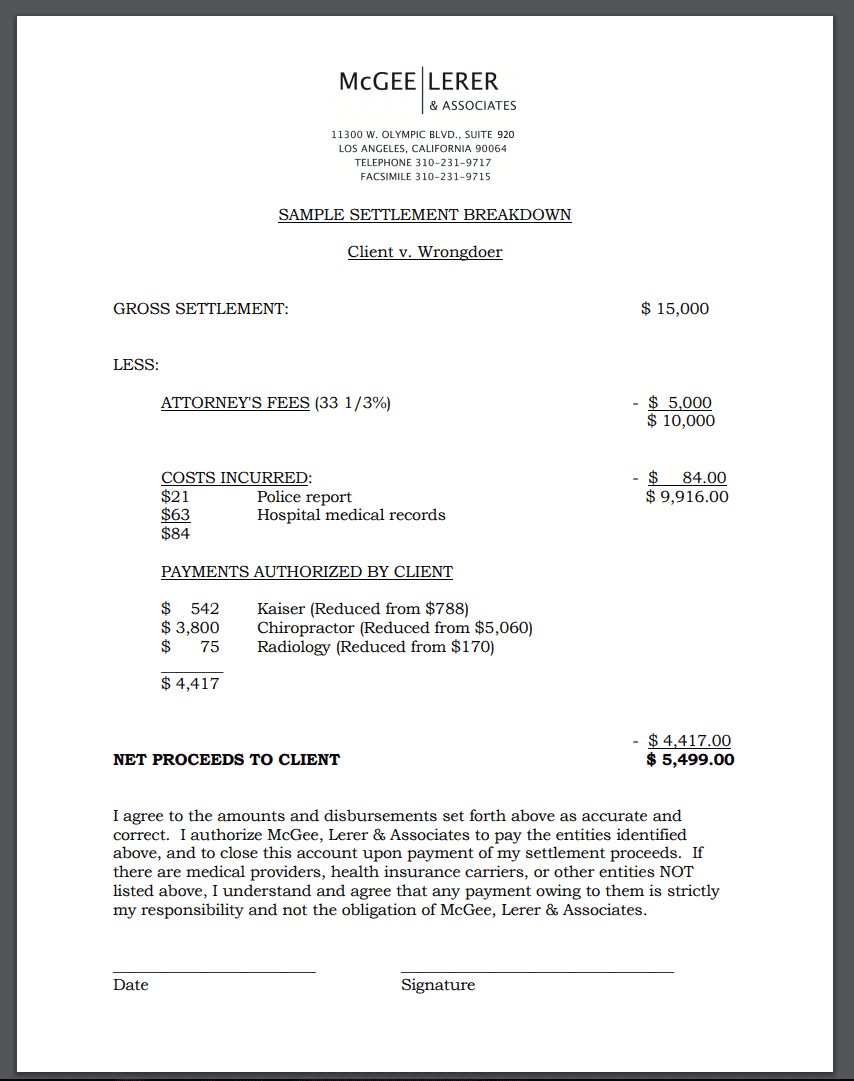 What does a Settlement Breakdown look like?
"A picture is worth a thousand words" applies to settlement breakdowns. We believe that it's much easier to understand how the fees and costs work if you see a sample breakdown. Click on the sample settlement breakdown to see how the settlement is divided up.
You'll see that the fee comes off the top. That means this: the fee is based on the full amount of the settlement.
After the fee is deducted, then costs are deducted.
Next we deduct the medical providers' bills and any amount owing to health insurance carriers. (If your health insurance carrier paid for any accident-related treatment, then, pursuant to your health insurance contract, they may demand reimbursement out of the money you recover from the at-fault party's insurance company.)
One of the services we provide, at no additional charge, is negotiating reductions from medical providers and health insurance carriers. After your case settles, we contact your doctors and the health insurance carrier and ask them to reduce their bills. Any reduction we obtain goes 100% to our client. Some personal injury attorneys take a percentage of the reduction; we don't.
The balance (after deducting our fee, any costs, and payments to medical providers and health insurance companies) goes to you.
Full Transparency of our Fee sets us Apart
Interestingly, the vast majority of personal injury law firms don't explain their fee on their website, other than stating: "No charge unless we win" or "We don't get paid unless you get paid" or "No recovery, no charge." But what does that mean?
At McGee, Lerer & Associates, we believe that coping with the aftermath of an accident is stressful enough. You don't need the added stress of worrying what it will cost you to hire a personal injury lawyer.
We don't want to take advantage of an accident victim at this time of vulnerability. We want to empower our clients by explaining everything about our fee and the process. We don't want you to be embarrassed to ask about the fee or how it works. That's why we are fully explaining it here. And if you still have questions, then we absolutely encourage you to ask us.
---
Call (310) 231-9717 to talk to our team of Los Angeles personal injury lawyers today.
---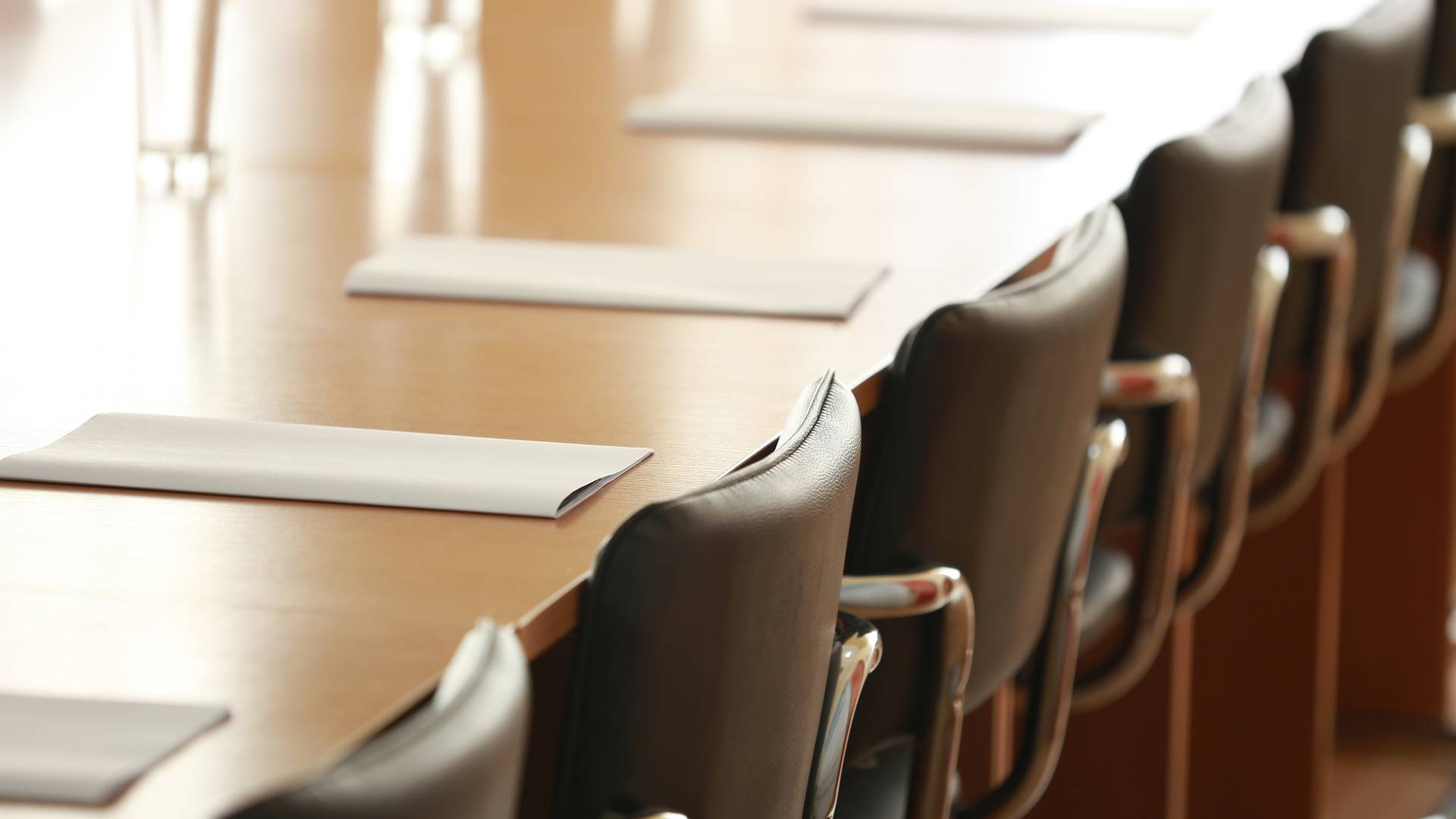 Why Choose McGee, Lerer & Associates?
What Makes Us Different
Five Convenient Locations

We have 5 offices in Southern California - Los Angeles, Pasadena, Santa Monica, Long Beach & Valencia.

24/7 Availability

We can be available nights and weekends and come to you at the hospital or at home.

No Fees Unless We Win

If we are unsuccessful in our efforts to recover your compensation, you owe nothing. 

Learn more here.

Individual Attention

We take the time to understand all the unique factors of your case to achieve the best results.
Meet Our Team
Los Angeles's Trusted Team
At McGee, Lerer & Associates, we have the skills and experience you deserve. Get to know our team by scrolling down and select the staff you would like to learn more about.