With the goal of enhancing safety for bicyclists, Santa Monica restriped Broadway between 16th and 20th, adding protected bike lanes on both sides of the street. While its purpose is to make it safer for bicyclists riding this east-west corridor, the restriping has had the unintended consequence of making it dangerous for drivers exiting their parked cars, for drivers turning left onto Broadway, and for pedestrians crossing Broadway.
There have been approximately ten accidents reported in this restriped corridor since it was put in. Local residents have expressed their concerns to the City of Santa Monica.
DANGER FOR DRIVERS EXITING CARS PARKED ON BROADWAY
Instead of parking against the curb on Broadway in this corridor, drivers now must park their cars in marked stalls located to the left of the protected bike lanes. By adding the protected bike lanes, the travel lanes for vehicles headed eastbound and westbound on Broadway between 16th and 20th have been narrowed significantly. Motorists must thread a needle in order to stay within their lane of travel. As a result of the narrowing of the Broadway lanes of travel, a driver exiting his or her parked car is forced to open the driver's door and exit the vehicle directly into the path of oncoming vehicles. An exiting driver can easily be hit by a passing car.
DANGER TO DRIVERS TURNING LEFT ONTO BROADWAY
The narrowed lanes on Broadway also create a danger for drivers turning left onto Broadway from 18th St. or 19th St. It's a dangerous intersection for left-turning drivers because there is no traffic signal. Cars parked in Broadway's parking stalls block a left-turning driver's view of vehicles approaching on Broadway from the left. Drivers who are northbound or southbound on 18th St. or 19th St. must inch out onto Broadway, attempting to see if it's clear to enter the intersection, but their view is obscured by the vehicles parked in the parking stalls, which are pushed out further towards the middle of the road because off the placement of the parking stalls. The new parking stalls create a visual obstruction for left-turning drivers.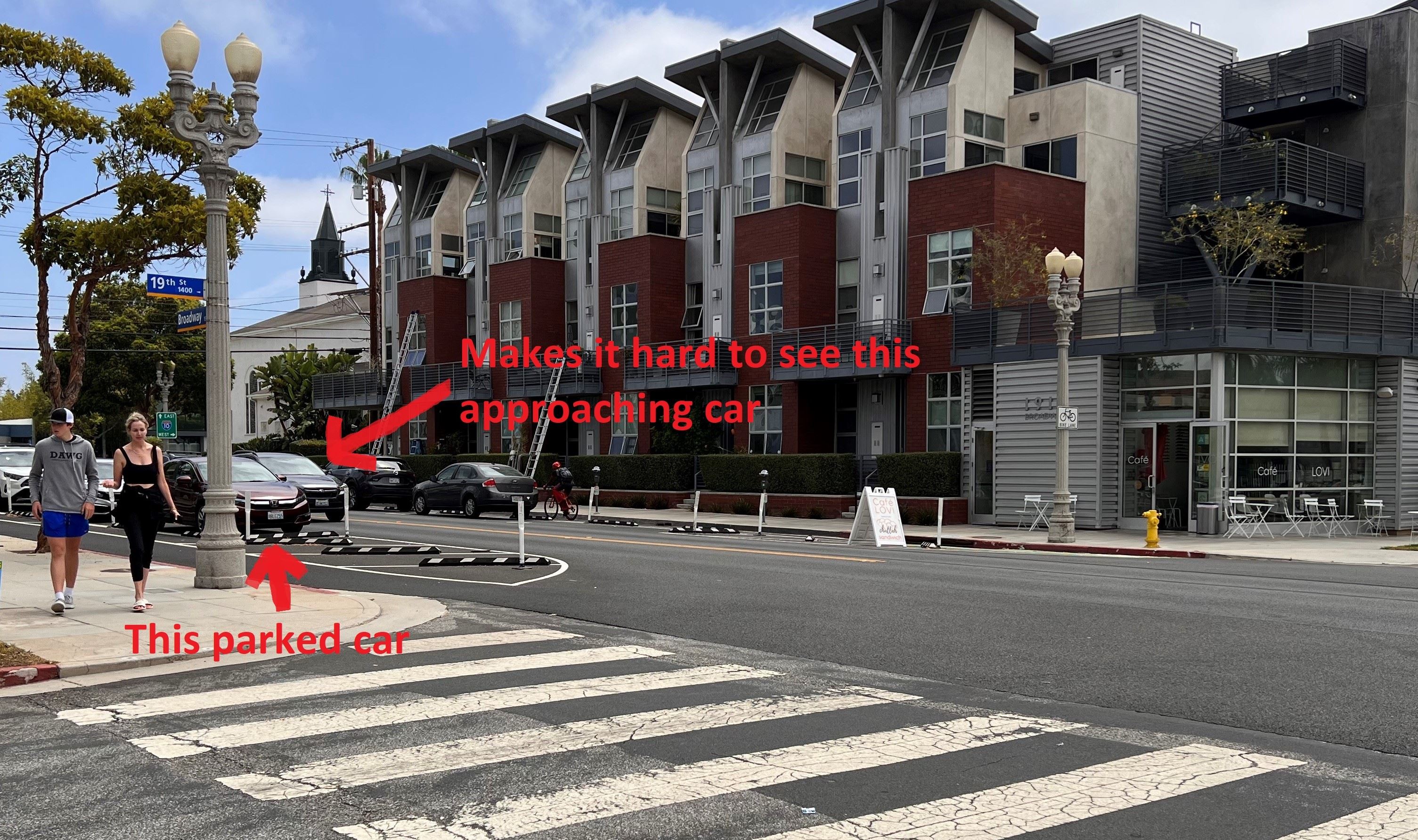 DANGER TO PEDESTRIANS CROSSING BROADWAY AT 18th ST. OR 19th ST.
It's dangerous for pedestrians to cross Broadway at 18th St. or 19th St. because there is no traffic signal. These are busy, complex intersections, with a lot going on. Motorists are not used to navigating streets with parking stalls immediately to their right, and protected bike lanes near the curb. There's a coffee shop at the southeast corner of 18th and Broadway, drawing pedestrians. Drivers turning left or right onto Broadway from 18th St. or 19th St. may not be able to see a pedestrian until it's too late, due to the visual obstruction created by the parking stalls pushed out near the center of the street.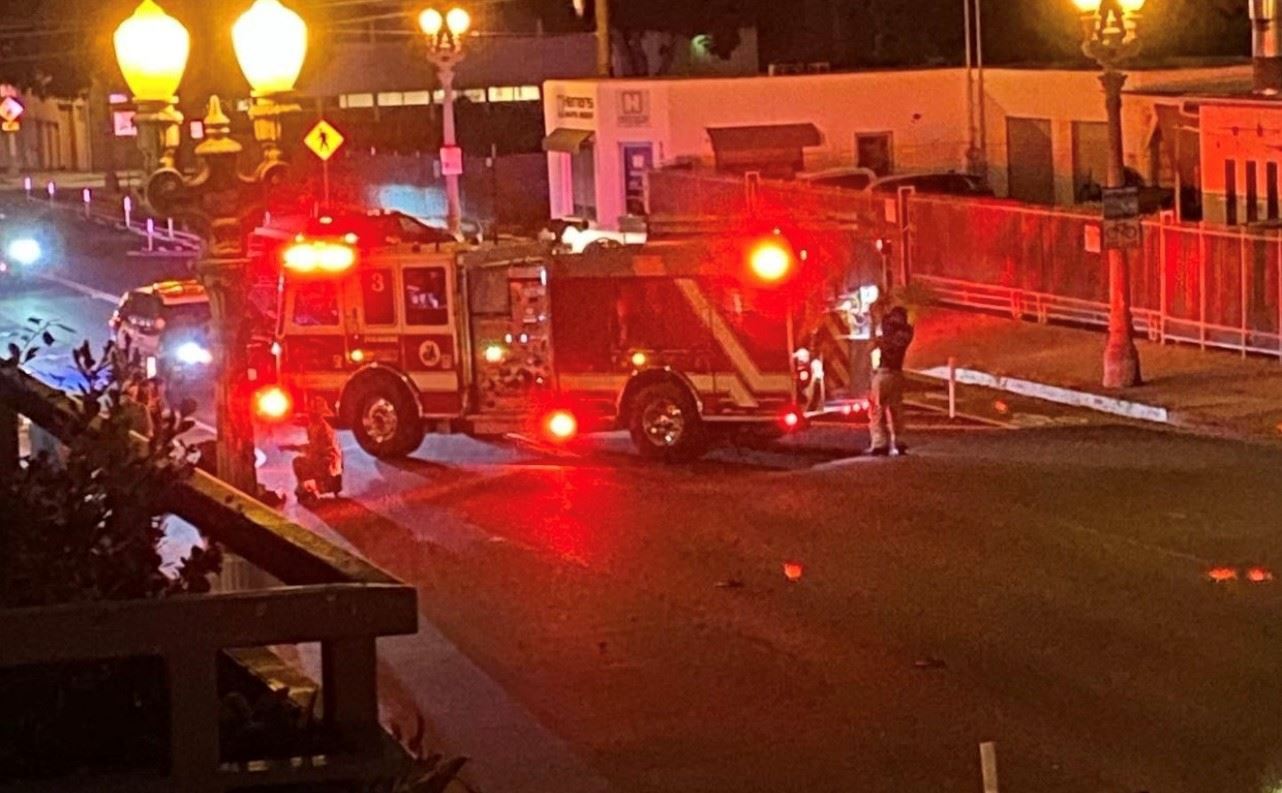 DANGER THAT BICYCLISTS WILL BE HIT BY RIGHT-TURNING CARS
A bicyclist in the protected bike lane is at increased risk of being hit by a right-turning motorist who approaches the bicyclist from behind. The motorist's view of the cyclist may be blocked by vehicles parked in the designated parking stalls located to the left of the bike lane.
The new bike lane mitigates the risk that a bicyclist will be car-doored by an exiting vehicle passenger, but it substantially increases the danger for drivers exiting their cars and for left-turning drivers. This new risk is more dangerous because the harm caused by a moving vehicle can be greater than the harm to a bicyclist caused by an opening car door.
If you or a loved one has been injured in a car accident, or bike accident or pedestrian accident, call the Santa Monica accident lawyers at McGee, Lerer & Associates for a free consultation. An experienced personal injury lawyer is available 24/7. Tell us about your accident, and we'll tell you if you have a case.